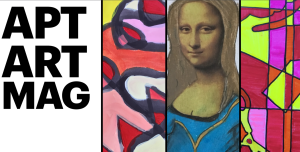 ACADEMY PREP CENTER OF TAMPA'S ART MAG

Every year in the spring, under the direction of our art teacher, Mr. Hernandez, our campus is transformed into an art gallery. Each student has an original piece of artwork on display, and the show includes the presentation of the "Golden Palette" award and the unveiling of the eighth grade Legacy Project. This year, due to COVID-19 and our campus closure, the art show had to be cancelled. However, Mr. Hernandez was determined to showcase our students' art work and share all of their hard work with their family and friends. He created the APT Art Mag, a virtual showcase of brilliant middle school art. Please click here to enjoy the APT ART MAG!

The recipients of this year's Golden Palette awards displayed excellence in art during the 2019-2020 school year.
Congratulations to this year's winners!
Tia, 5th grade
Rihanna, 5th grade
Hezekiah, 5th grade
Derrion, 5th grade
Imani, 6th grade
T'Niya, 6th grade
Angel, 6th grade
Manuel, 7th grade
Messiah, 7th grade
Tristen, 7th grade
Musiq, 7th grade
Reginalda, 8th grade
Dameer, 8th grade