Academy Prep Center of Tampa is a rigorous private middle school for students qualifying for need-based scholarships in Tampa, Florida. Academy Prep students attend school 10.5 hours a day, 6 days a week, 11 months a year. Academic classes are taught separately by gender.

Mission:

To inspire and empower students qualifying for need-based scholarships to become future community leaders through a rigorous middle school program coupled with ongoing graduate support.

Statement of Philosophy:

Academy Prep Center of Tampa is a tuition-free, independent center for education for middle-school aged children who qualify for need-based scholarships. In the atmosphere of an extended family, Academy Prep encourages and teaches students to excel in academics, ethical and moral understanding and judgment, and life skills. Opening its doors in 2003, it is modeled after its predecessors, Nativity Mission Center, which opened in the Lower East Side of Manhattan, New York, in 1971, as well as the Academy Prep Center of St. Petersburg, in operation in south St. Petersburg since 1997.

The school is dedicated to educating economically-disadvantaged students by providing an academically challenging, enriching and structured environment followed by eight years of support and guidance through high school and college.

Academy Prep admits students who demonstrate the ability to handle a rigorous and demanding academic program designed to prepare them for success in secondary school and college. Through its year-round program, the school promotes the intellectual, athletic, and social development of its students. Academy Prep students and graduates are expected to act as mature and responsible individuals who contribute to their communities and demonstrate charity and concern in all their actions.
Vision:

Transforming lives of underserved middle school students by being a model of foundational and academic excellence in preparation for high school, post-secondary and career success.

In our Tampa Bay community, many remarkable young people dream of a real opportunity for success and fulfillment. These children are talented, creative, and have the will to transform their lives – lives that will in turn transform our community. However, these kids live in some of the more impoverished areas of Tampa. Most live in single-parent households and know few people who have graduated from college. Many of their families live day to day struggling to make ends meet. These tenacious youngsters live among us – just down the road.

In our own backyard, Academy Prep provides one of the most unique education programs in Florida. We are more than a middle school. At the core of our mission, Academy Prep provides an exemplary, college preparatory middle school education coupled with a wide range of life changing services, while closely supporting our graduates all the way through high school, college and into their careers. This combination of strategies helps guide Academy Prep students to a life fulfilled.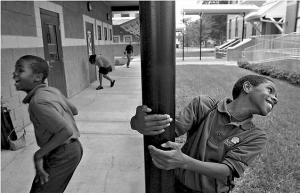 Academy Prep is transforming lives in the community, one child at a time. Most Academy Prep graduates enter high school at least two years ahead of grade level in reading and math. Our 5th-8th grade students maintain over a 96% attendance rate, one of the top five attendance rates for any middle school in the Tampa Bay area. Academy Prep graduates attend some of the most prestigious high schools in the area and in the country, including Phillips Exeter (NH), St. Andrew's (TN), Bolles School (FL), Baylor (TN), Academy of the Holy Names, Berkeley Prep, Jesuit, Tampa Prep, and Tampa Catholic. Additionally, 96% of Academy Prep Center of Tampa students graduate from high school on time, in an area where less than half of the adults hold a high school diploma! Our first three graduating classes have now graduated from high school and are now in their freshman, sophomore, and junior years at colleges which include: Columbia University (NY), the University of Florida, Florida State University, the University of South Florida (Honors College), Marist College (NY), St. Leo University, Presbyterian University (SC), the University of Central Florida, and Agnes Scott College (GA).
Academy Prep Students:

- must be eligible for the free or reduced-price federal school meals program, setting their income near or below the poverty line.

- attend school up to 11 hours a day, 6 days a week, nearly year round in small classes of no more than 17 boys or 17 girls, with most classes taught by gender.

- receive a full range of academics, including advanced level English, literature, mathematics, science, social studies, writing, art, drama, library skills, and computer lab.

- participate each day in afternoon enrichment programs including classes and programs in dance, various sports, Boy Scouts, career development, social skills, leadership skills, and community service. Academy Prep debuted its Centers of Excellence in the 2012-13 school year in the areas of Chess, Music and Art, featuring two performing arts showcases, an inaugural student art gallery, choir performances around the community, and a chess team that placed first in the region and sixth in the state!

- take part in required Saturday field trips, community service activities, and an 11th month program in June.

- are served by a variety of corporate and non-profit community partners and individuals with over 9,000 hours of volunteer time – a third of that service completed by our families.

- are closely supported by our Graduate Support Services staff, helping each graduate and his/her family through the opportunities and challenges of high school and college.
History:

The Academy Prep Centers for Education are based upon the Nativity Miguel Network of Schools, a proven academic model for economically disadvantaged children utilized across the country for over 40 years. Currently there are two Academy Prep schools – separate not-for-profit private sister schools located in Tampa and St. Petersburg. Academy Prep leaders started the St. Petersburg Center in 1997. Encouraged by the first Center's success, the Academy Prep Center of Tampa opened in 2003. The school is housed in the old V.M. Ybor Grammar School, Ybor City's first grammar school, which taught students from 1908 until 1971, when it closed and fell into disrepair. The Academy Prep Center of Tampa renovated this century-old historic landmark, and reopened its doors in 2003 to continue serving the community's youth.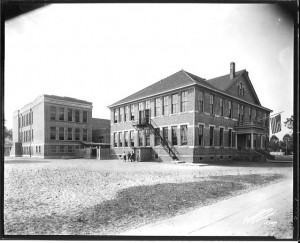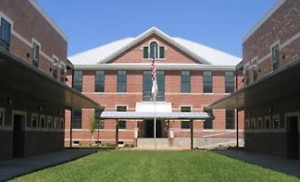 Our Logo:
Academy Prep's tree logo is designed to bring life to the mission of our program.

- Long a symbol of solid growth and healthy life, the oak tree in our logo signifies the school. The oak serves as the dominant theme of the logo, invoking images of both the tree of life and the tree of knowledge. As the central element, the oak symbolizes strength of purpose and continuity, both traits that characterize the Academy Prep program. The visible root base of the tree represents the efforts of Academy Prep to "sink its roots" deeply into the community it serves. By being rooted in our community, Academy Prep will become a long-standing symbol of what our community can produce when we work together to nurture our youth.

- The sun behind the tree is meant to represent the forces in our community that partner with us to nurture, cultivate, and protect our program. Individuals, businesses, and foundations join together with Academy Prep staff, volunteers, and parents to support our most precious asset–our star students.

The sun in the logo is not a sunset, but a sunrise. At Academy Prep, we are optimistic for the future of each of our students, confident in the possibilities each new day brings for growth, achievement, and success. With Academy Prep, our students begin a new life–a life characterized by hope and expectation, cultivated by hard work and personal responsibility, nurtured by supportive adults with high expectations.


- The star in the tree, ever-present in the "picture" of Academy Prep, represents the individual student. Academy Prep recognizes and celebrates the uniqueness and value of the individual and commits to addressing the needs of each individual student. The star is a fitting symbol of the Academy Prep student, reflecting the majestic heights we expect our students to realize and the dreams they come to develop for their own successes.