Welcome to the Academy Prep Center of Tampa family! It's important to us to keep you engaged in your student's experience at APT. Here, you can access several important links and resources that will help you navigate your way throughout the school year.
Welcome Back King Cobras!
Welcome to the 2021 - 2022 school year. It's going to be a fantastic year, and we have much to do! Please review the updated Academy Prep Center of Tampa COVID-19 checklist by clicking on this link. It is a very detailed document; however, you will find it to be most useful by taking the time to read it thoroughly and carefully. Here are five things to know about APT:
1. Academy Prep has high standards. We expect our students to succeed. Students who work hard achieve BIG results! We guarantee it.
2. Convocation is at 7:30 am and all students are expected to be in line and ready to start their day. The little things matter, so don't be late. If something happens, please call the school office and let us know what's happening. We work best when we work together.
3. Read your school newsletter. It goes out every Thursday at 9:00 am, and it has important information - knowledge is power. Pay attention to the little things. It all matters.
4. School is dismissed at 5:30 pm every day, except Fridays. Friday dismissal is at 3:45 pm. Please don't be late to pick up your student. If something goes wrong, please call the school office right away.
5. If you have a question, a problem, anything - call us. We are here for you and your student. We work best when we work together.
Here are some important back to school documents
Welcome to the School Counselor's Corner
For questions regarding upcoming workshops or to reserve your seat, please email Mrs. Lauren Malone, Guidance Counselor, at lmalone@academyprep.org. A contact form can be found below.

Monday, January 31, 2022 at 6:00 pm - Cultivating Independence in Our Kids
Wednesday, February 9, 2022 at 6:00 pm - Identity Theft presented by Truist - Learn theft tactics to protect yourself and your family during a global pandemic
Tuesday, February 15, 2022 at 6:00 pm - Children's Board Hillsborough County: The Child Safety Campaign - Discuss and learn about the Children's Board programs to support children and families
Saturday, February 26, 2022 - Finding Balance in Our Digital World - Documentary screening and Q&A. More details to come!
The Junior League of Tampa Alliance for Period Supplies
Welcome to the School Nurse's Corner
Ms. Berrios is APT's full-time school nurse and speaks Spanish, too! If you have any health concerns - from food allergies to vaccinations - please contact Ms. Berrios at 813-248-5600 or lberrios@academyprep.org.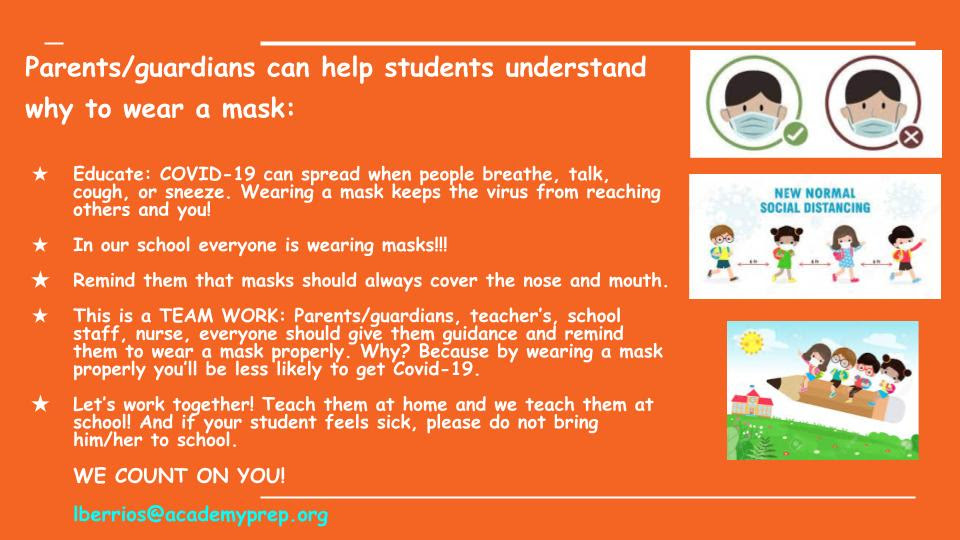 Wellness Day - School Closed
8th Grade Field Trip - Metropolitan Ministries
Parent Council Meeting - 7:00 pm via ZOOM
7th Grade Field Trip - Kennedy Space Center
L'Tanya C. Evans, Head of School
Richard Grandy, Director of Graduate Support Services
Lauren Malone, Guidance Counselor